Protect Your Oral Health with
Wisdom Tooth Extraction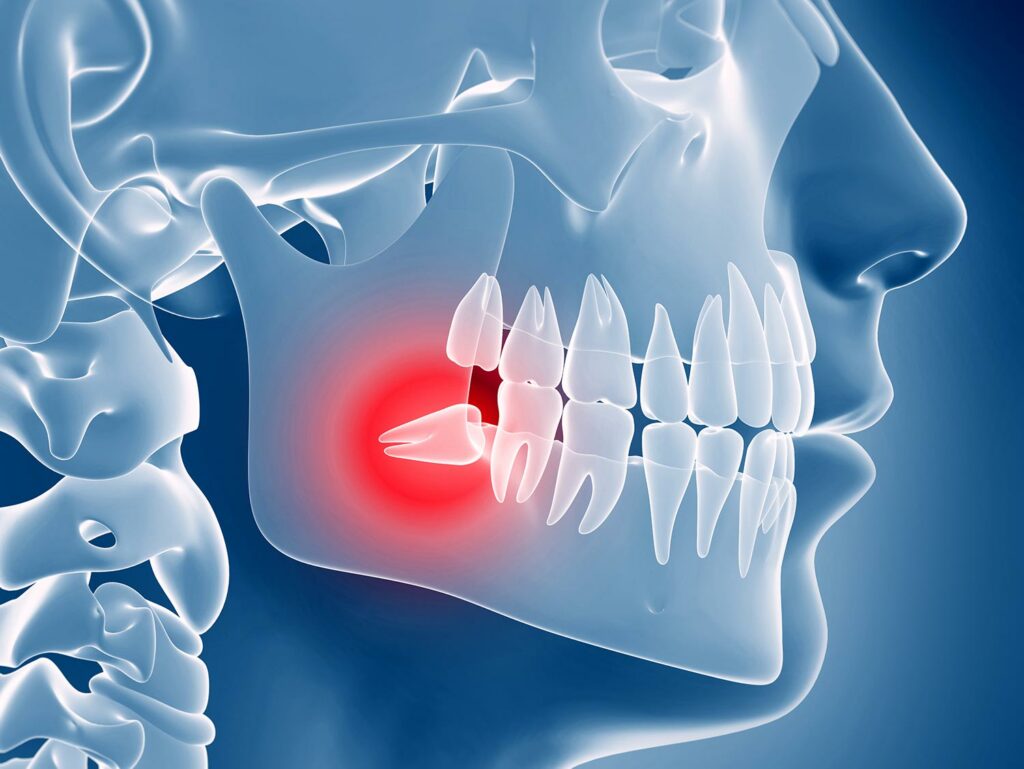 The average jaw can comfortably accommodate 28 teeth. The third molars, more commonly known as wisdom teeth, bump the total number of teeth to 32. Without sufficient space for these teeth to emerge, a range of issues can occur, including infection and overcrowding. At Greenville Oral Surgery Partners, we provide state-of-the-art wisdom tooth extraction to protect the health of your smile. Our team of skilled oral surgeons can perform both simple and complex extractions, including the removal of impacted wisdom teeth. With multiple locations in Highway 14, Duncan, Powdersville, Cleveland Court and throughout the Greenville, SC area, you can undergo wisdom tooth removal at the office nearest you.
Why Are
Wisdom
Teeth
Removed?
Tilted wisdom teeth
can shift and damage
nearby teeth.
When there is not enough room in your jaw for wisdom teeth to emerge properly, they can interfere with the health of your smile. We typically recommend extracting wisdom teeth if:
In general, we recommend removing wisdom teeth before age 30, as the risk of complications increases later in life. In addition, the longer you wait, the more complicated and difficult the procedure becomes. However, our surgeons can perform safe and effective wisdom tooth extraction at almost any stage of life.
What to
Expect
During
Your Visit
At Greenville Oral Surgery Partners, you can expect to receive the highest quality of care throughout each phase of your wisdom tooth removal. For many patients, we can even perform their consultation and surgery on the same day.
The procedure itself typically takes between 30 and 60 minutes. We offer multiple forms of sedation and anesthesia to ensure you remain comfortable. The specifics of your extraction will depend on whether your wisdom teeth are impacted or not. Your surgeon will fully discuss what to expect during surgery with you before beginning. Most patients are able to leave our office within 90 minutes.
Depending on the type of anesthesia or sedation you received, you may feel drowsy or sleepy until the effects wear off. We typically recommend you arrange for someone to drive you home and that you rest for the remainder of the day.
With a range of cutting-edge technology and advanced training, our surgeons can perform your wisdom tooth extraction safely and efficiently. You will likely experience swelling and mild discomfort for the first few days after the extraction. It may take a few weeks for the treated area to fully heal.
For the first three days or so, you can use ice and moist heat to address discomfort and bruising. You should stick to soft foods during this time as well and drink plenty of fluids. Our team can provide you with more extensive post-operative instructions during your consultation.
Have Questions about how we can help?
At Greenville Oral Surgery Partners, our goal is to treat all of our patients like family. With years of surgical experience and advanced training, our surgeons can handle all of your oral and maxillofacial surgical needs safely and efficiently. If you think you or your child require any of our listed oral surgery procedures, call (864) 281-9119 or contact our office online. You can also visit one of our locations to schedule an appointment today.
At Greenville Oral Surgery Partners we know how to help you. Our board-certified surgeons and expert staff can provide the care you need to relieve the discomfort you feel.
What are
others saying
about us?
"I had all 4 wisdom teeth taken out by Dr. Cobb. I was terrified!! He made me so comfortable! He talked me thru everything & made sure I understood. His voice is so soothing. He made things even better. I would recommend ANYONE to Dr. Cobb. He & his team is the best! Not to mention I was PAIN-FREE!"
★ ★ ★ ★ ★
"The most amazing and friendly staff, best ever!! Dr. Wilson is so so friendly, personable, and an amazing oral surgeon! The greatest experience I have ever had!!"
★ ★ ★ ★ ★